We are experiencing a pretty amazing fall in Kansas City this year. The fall weather has been a bright spot in a rather dreary 2020! We are currently scheduling fall cleanups and other fall services for current and new clients. Our fall cleanup removes leaves, branches, and other debris that have accumulated on your property.
Fall Cleanups Keep Your Lawn Tidy and Healthy
Getting rid of leaves and debris will help prevent pests and disease from moving in during the fall and winter months. Leaf build-up on the lawn can smother the grass and leave dead-spots in the lawn. A fall cleanup also preps the lawn for the spring, allowing  your lawn to rebound faster and healthier. When combined with fall and winter fertilization and over seeding, you can be sure your lawn will be ready for the winter and prepped for the spring growth season!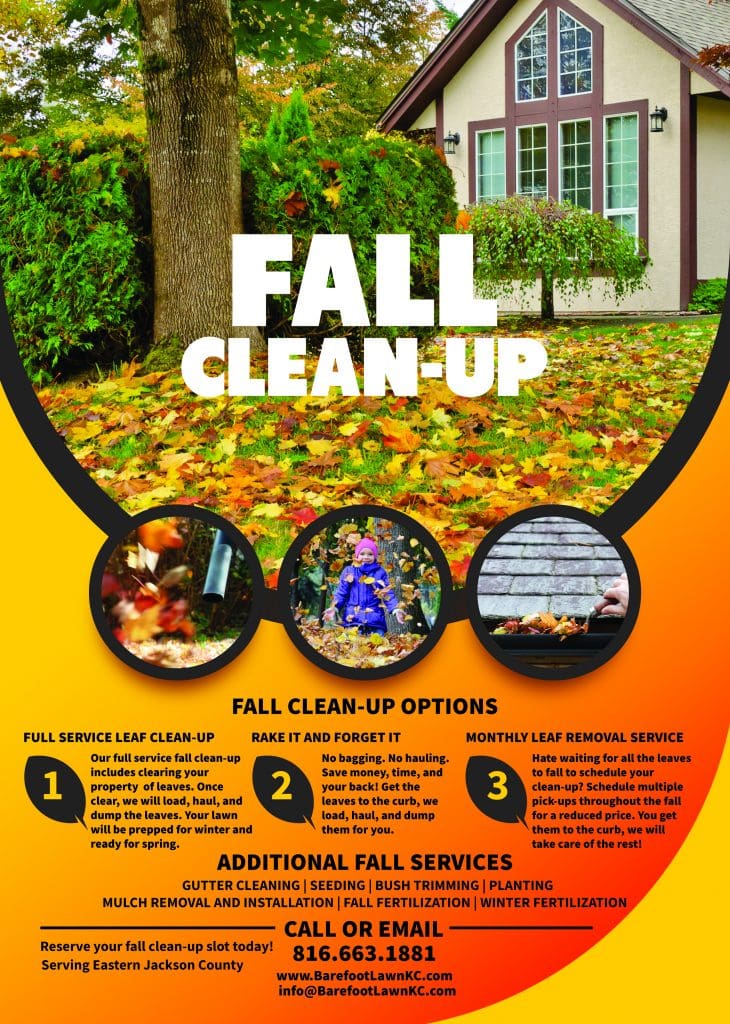 We Provide Cleanup Options To Match Your Goals and Budget
We have a variety of options from full service leaf cleanups to Rake it and Forget It – which saves you time and money. Rake or blow your leaves to the curb, we will collect and dump it for you. No bags, no mulching, no sore back. You rake it, we will take care of the rest. Once you lawn is in shape, consider some of these great fall decorating ideas!
Additional Services
You can also take advantage of our additional fall services such as seeding, fertilization, gutter cleaning, planting, mulch removal and installation. It is also time to start thinking about winter fertilization, we are scheduling service for November and December. Root growth continues throughout the winter months, winter fertilization creates stronger roots and a quicker green-up in the spring! don't worry if you miss out on fall seeding, we can dormant seed over the winter as well to get your seed a jumpstart on spring growth.
We work hard to provide great service and great value to our clients. Contact us today to get your estimate!